Table of Contents
(Click to Open/Close)
U. S. Parcel Post Stamp Used for First Class on Cover
There is a gallery of usages of these interesting stamps on the website showing Parcel Post stamps and their usages in the U. S.
I like these stamps a great deal. They are among the first U. S. stamps to be engraved from photographic images of real situations, not just famous portraits. The images are very pictorial. For instance, the 20 cent stamp from this set is the first stamp issued in the world to depict an airplane.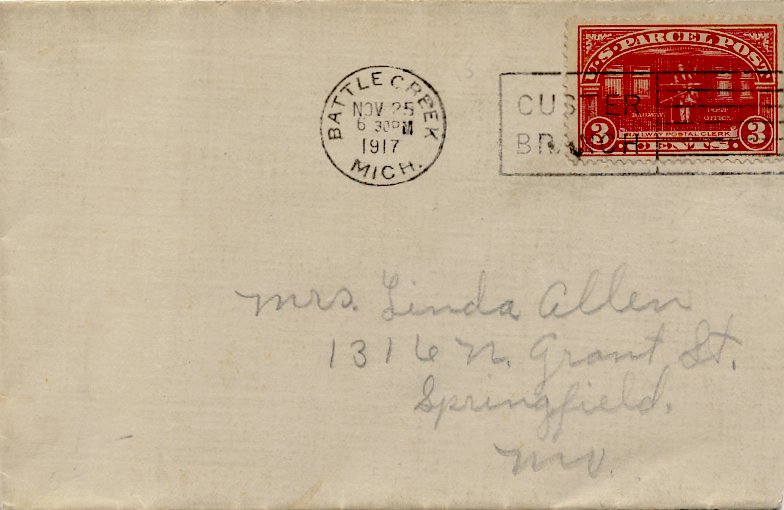 Parcel Post Stamp Used in First World War Era
This cover is very interesting to me, because my primary collecting interest these days is First World War postal history.
Parcel Post stamps were legal to use on first class letters, starting July 1, 1913. I've noticed that, by 1914, first class usages seem to be fewer. After 1914, Parcel Post usages are quite uncommon.
The first class letter rate was raised in early November, 1917, by one cent as a tax to pay for the United States' involvement in the First World War. Many people had to scramble to make up the rate, and there was a shortage of 3 cent stamps for a while.
Soldiers in the large Army camps in the U.S. had a more difficult time, since they had little money, and needed to write to their families and sweethearts. I believe that the Post Office drawers were combed for applicable postage, and this activity has revealed an interesting mix of "old" stamps that show up from time to time in the U.S. camp postal history that I collect.
This cover is cancelled by the Universal machine of the Custer Branch of Battle Creek, Michigan. Camp Custer was one of the large Army training camps open during WW I. It is dated November 25, 1917, about 3 weeks after the new postal rate went into effect.
Links