Table of Contents
(Click to Open/Close)
U. S. Special Delivery Stamp
Example Use of a Special Delivery Stamp
This stamp was used, of course, to pay the Special Delivery fee for letters requiring immediate delivery. Distinctive designs and colors were used for these stamps, to prevent the possibility of these letters being mixed in with regular First Class mail. The stamp illustrated is assigned the Scott number E5, and was issued in 1895. The engraving is particularly fine, depicting the "running messenger", a symbol no doubt of the Post Office rapidly delivering the letter to the waiting customer.
This image is from a cover that was used in 1902. The cancellation is from a "Railway Post Office", that is, a moving railway car (usually right behind the locomotive, the most dangerous location on a train) full of postal clerks sorting and handling the mail "on the fly". The postal history of the Railway Post Office is of particular interest to members of The Mobile Post Office Society.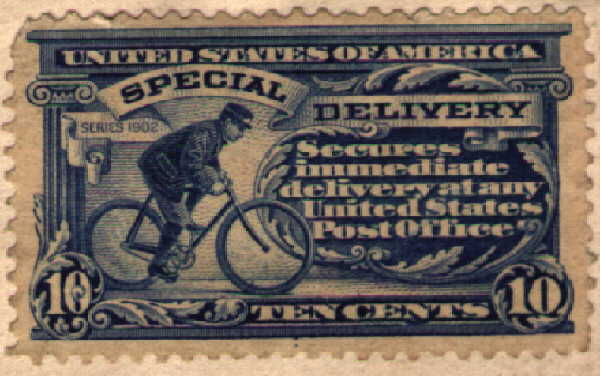 U. S. Special Delivery Stamp
The above stamp is assigned the Scott number E6, and was issued in 1902. The engraving is particular fine, depicting what appears to be a Post Office carrier pedalling his bicycle rapidly to deliver the letter to the waiting customer.
It is said that the designer of this stamp posed himself on his own bicycle in his studio for the original photograph. He then used that photograph to engrave the stamp design.
Links