U. S. Parcel Post Stamp on Cover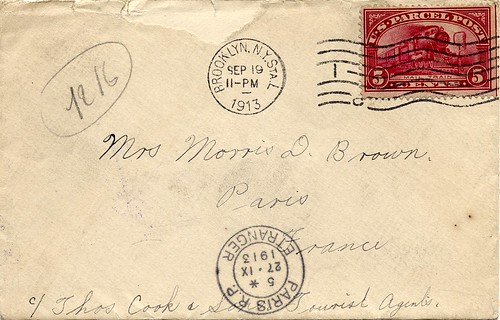 The United States set up the Parcel Post system in 1913, and issued special stamps for this new parcel mail. On July 1, 1913, these stamps became legal to use on first class letters, as well as for any postal payment. I've noticed that, by 1914, first class usages seem to be fewer. After 1914, Parcel Post usages are quite uncommon.
I like these stamps a great deal. They are among the first U. S. stamps to be engraved from photographic images of real situations, not just portraits of famous people. The images are very pictorial. For instance, the 20 cent stamp from this set is the first stamp issued in the world to depict an airplane.
For more information on these stamps and the service, take a look at an excellent website with Parcel Post stamp images.
View my Google photos album of Parcel Post stamp images.
Also, the late Henry Gobie wrote an excellent book on the history of the service and these stamps, published in 1979. Amazon offers information on purchasing a copy of the book (it is many years out of print). You may also want to check for copies on eBay.
CLICK ON THE THUMBNAIL IMAGES TO VIEW A LARGER IMAGE