Table of Contents
(Click to Open/Close)
Christmas Seals Used on a Postcard 'Tied' by a Cancellation Device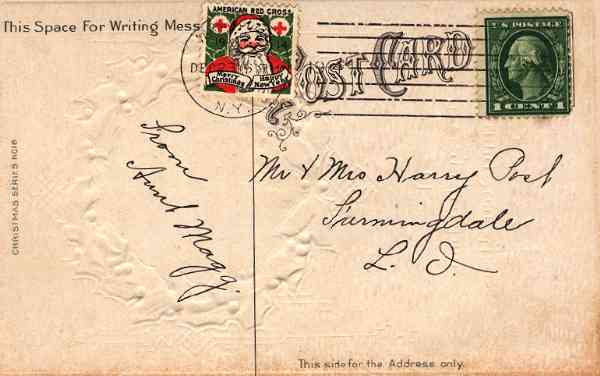 Christmas Seal on Postcard, Tied by Machine Cancellation
Above is the image of the address portion of a Christmas-themed picture postcard. I have collected this item, because it shows the Christmas seal "tied" to the cover by the Post Office cancelling machine.
These covers are quite popular with collectors, since they show a use of the charity seal that could be interpreted as illegal. The address portion of a cover or postcard was supposed to have only postage stamps attached in the upper right (where they would be cancelled). However, I have found information in the U. S. Post Office Postal Bulletin that directs clerks to allow this practice during the month of December.
This item was used on December 23, 1914 from Farmingdale, New York. As an added item of interest, the machine which cancels this post card was manufactured by the Cummins/Time-Marking Company. I have additional information about these types of machine cancellations on my machine cancel pages.
Notice that the sender placed the seal well away from the stamp.
Christmas Seal on Postcard, Tied by Handstamp Cancellation
The above item was used on December 24, 1918 from a town in Minnesota. The Christmas seal itself has a particularly striking design, based on the Statue of Liberty, undoubtedly part of the Victory celebration of the end of the First World War. By the end of the War, Americans were very familiar with the Red Cross, since they had been inundated by fund-raising drives, and the activities of many Red Cross volunteers on the home-front.
Note that the sender put the stamp and the seal in the upper left portion of the card, which is against Post Office rules.
Links