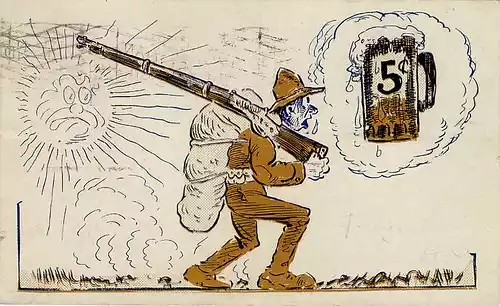 The links on this page point to a wide variety of WW I postal history items. My collecting and publishing interest has been domestic U. S. training camps, so there will be quite a lot of that material highlighted.
During my research on the First World War, I have accumulated postal history and War-related "collateral". Such collateral items include: keepsakes, photographs, medals, posters, and even a silk scarf. This page links you to some images of War-related items.
Whenever I look at a photograph showing these naive young people, I see youth and enthusiam reflected back. Many of these men and women did not return from overseas, and others came home with terrible wounds. In addition, both soldiers and civilians in the United States were cut down by the influenza epidemic of late 1918. Such was the crucible of fire brought about by this War.
General Postal History and Other Items
First World War Images, Including Postal History
My First World War images on Google photos
Troopships on Picture Postcards, including Jewish Welfare Board Ship Postcards
Spruce Squadron Items
I have created a web page with some of the many images I have of Spruce Soldiers, spruce operations, and postal history. See: this page with Spruce Soldier images.
Also, I have a Google Photos album with Spruce Soldier Images.
The overall history information that I have starts with this page on the Spruce Squadrons.
Additional Links
Technical Information
Uses PaperMod theme of Hugo (see footer of this page)