Free Windows Programs by Bob Swanson [working]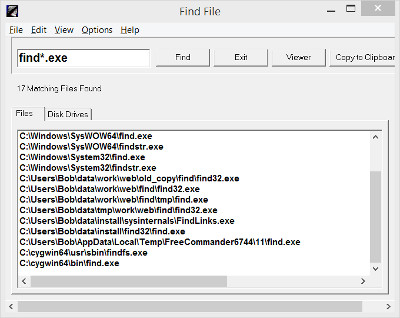 There is an older web page listing out-of-date programs that I wrote several years ago. They are, for the most part, obsolete. You may certainly download them and try them, but nothing is expected to work, or there may be much better programs around that are also free.
I recently, however, tried one of the older programs and found that it worked just fine on Vista 64. Better yet, I know that it works fine on Windows 7, 8, and 8.1. In fact, this program was written to overcome some of the stupid behaviours of the file searcher available in Windows itself, and I don't see a lot of improvement in Windows 8.1. Searching still seems to be hit and miss. While the program is dated (and I don't have the source, or C++ compilation capability), it still works pretty well.
This file finder was last updated July 5, 1999. And, yes it works fine with Vista 64, Windows 7, 8, and 8.1. So, this is a WIN32 program to find files [209K ZIP file].
Runs on a WIN 32 system (Windows 95/98/NT/XP/Vista/Vista64/Win7/Win8/Win8.1). This may seem like a trivial programming exercise, but it is clear to me that each of the many solutions out there suffer from some shortcoming or another. I use this program every day. It is simple and quick and small.
---
More Links
**** If you can read this text, your browser is not supporting Cascading Style Sheets (CSS). You may be running a text-only browser, or perhaps an older browser version. It is also possible that you are have disabled Javascript (Netscape). If you wish to see this page with all formatting in place, upgrade your browser, and/or enable Javascript. Sorry for the inconvenience. ****