2006 Pride of Hawai'i Cruise, Our Suite Onboard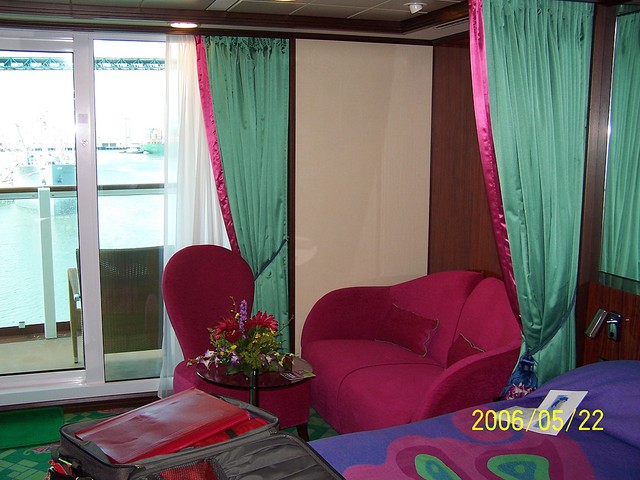 Our suite on the Pride of Hawai'i was a rear-facing penthouse suite. We upgraded to this (probably for the only time in our lives), and really enjoyed it. One of the pleasant experiences was sitting on our lanai (balcony) watching the ship's wake stretch off to infinity.
As you will see in these photos, the suite was spacious, with a separate dressing area, dining area, and a couch that was actually comfortable. (Previous cruises on NCL had accustomed us to the "world's hardest couch" normally present in a balcony cabin.) The bathroom was very nice, with separate toilet area, tub/shower area, and central sink area. The penthouse suite package includes a number of amenities, including butler service and concierge service. Our cabin attendant Joyce (from Guam) was great, and the staff of the Pride was first-rate.
We were concerned that we would be breathing the exhaust fumes of the huge diesel engines of the ship. Far from it, what we had to contend with was the exhaust of the bakery! The wonderful baking odors made us very hungry!
NOTE that these photographs are Copyright©1998-2019 Robert and Sandra Swanson. I greatly appreciate people viewing the photos, but not stealing them. If someone is interested from a commercial point of view, please contact me.

CLICK ON THE THUMBNAIL IMAGES TO VIEW A LARGER IMAGE