2006 Pride of Hawai'i Cruise, Na'Pali Coastline of Kaua'i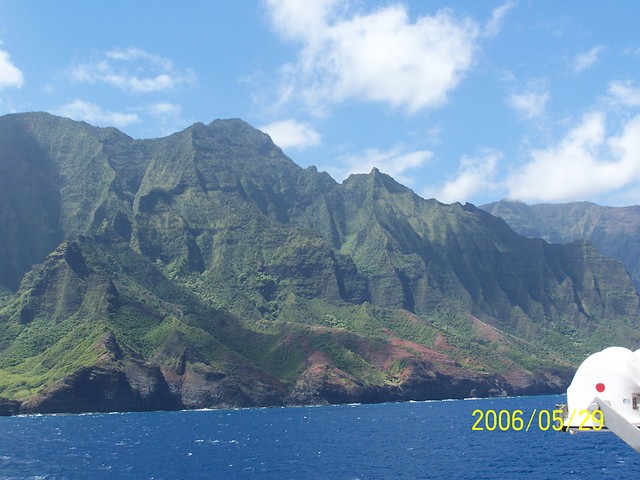 One of the highlights of the Hawaiian cruise is a daylight passage of the spectacular Na'Pali Coast of Kaua'i. These incredible sea cliffs were formed over the eons by a combination of the ocean undercutting the land from below, and by the water runoff from above. Kaua'i gets a lot of rain, even on the leeward side.
To add to the spectacular knife-edge cliffs, most of Kaua'i is red soil. When that soil is covered by luxurious plant growth, you get a remarkable contrast of green and red. As the clouds pass by, this landscape is sometimes in shadow, sometimes in bright sunlight.
This area is just awesome. Most visitors to the island are unlikely to see this view, unless they take a helicopter ride. Viewing it from the Pride of Hawai'i was wonderful. We actually had two chances to see the coast, due to the unfortunate need to offload a medical case back in Nawiliwili. So, just as the Na'Pali cruise was ending, the Pride reversed course and we enjoyed the entire coastline again.
NOTE that these photographs are Copyright©1998-2019 Robert and Sandra Swanson. I greatly appreciate people viewing the photos, but not stealing them. If someone is interested from a commercial point of view, please contact me.

CLICK ON THE THUMBNAIL IMAGES TO VIEW A LARGER IMAGE