2006 Pride of Hawai'i Cruise, Kaua'i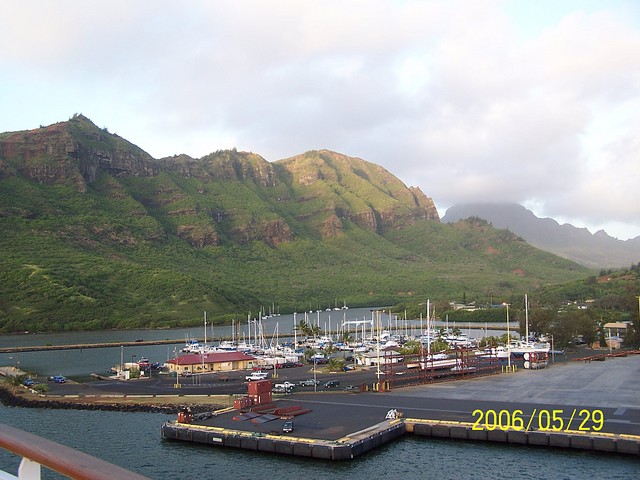 Our first Hawaiian stop was Nawiliwili harbor on the island of Kaua'i. The "Garden Isle" is truly beautiful, and offers the very spectacular Na Pali coastline to cruisers on the NCL ships.
The ship was only in port for one long day and overnight. We had to leave to allow the Pride of Aloha to move into the single berth at Nawiliwili on her regular inter-island run. Many of the crew on the Pride of Hawai'i had previously worked on the Aloha and felt a lot of nostalgia for their time on that lovely ship. They even sang a song from the Aloha as she sailed past us into Kaua'i.
This was the first time we saw some port security. The Coast Guard was out to make sure our first stop was safe. After an overnight stay, our second day in Kaua'i was spent cruising the spectacular Na Pali coast of Kaua'i, which has its own photo gallery.
NOTE that these photographs are Copyright©1998-2019 Robert and Sandra Swanson. I greatly appreciate people viewing the photos, but not stealing them. If someone is interested from a commercial point of view, please contact me.

CLICK ON THE THUMBNAIL IMAGES TO VIEW A LARGER IMAGE