2006 Pride of Hawai'i Cruise, CruiseCritic Activities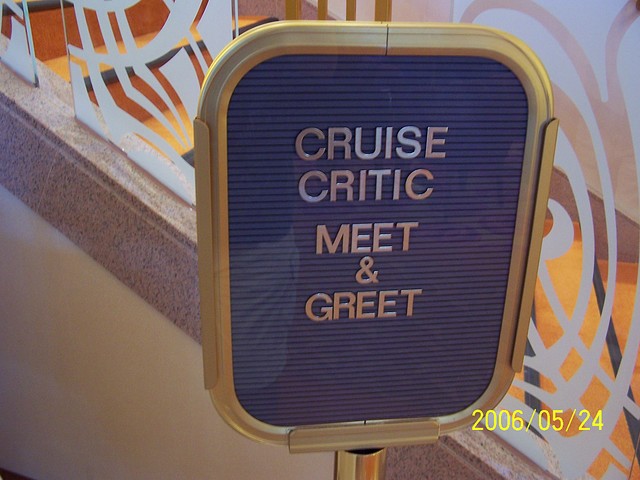 Before we even boarded the beautiful Pride of Hawai'i, we had the opportunity to "meet" a number of our fellow cruisers. We did this through the CruiseCritic.com web discussion groups. Anyone with an internet connection should be able to visit the boards, ask questions, make new friends, and enhance your cruising experience.
Our first get-together was informal. Most of the CC passengers embarking in Los Angeles met after the lifeboat drill at the Bali Hai Bar. It was a great chance to meet and greet, and get into that "cruising feeling". More passengers would be boarding in San Francisco, however.
Vickie, the Group Coordinator on board the Pride, was really helpful to us, and scheduled an "official" get-together on the morning after we left San Francisco. Even though our meeting took place around the time of the lifeboat drill for SF passengers, we still had a great group. Several of the ship's officers were present, along with the Cruise Director, both Concierges, and Kamana'o, the onboard Hawaiian Ambassador.
Near the end of the cruise, we decided that it would be a good idea to get all the CC'ers together again. They would be able to compare notes, make new friends, and talk about their experiences in the Islands. Again, Vickie, the Group Coordinator, was very helpful and arranged another meeting as we left Maui. We got a section set aside in the forward nightclub for a final meet-and-greet. We did not ask for refreshements, figuring that we would all be going to dinner right after the meeting. Well, the Bar Director came by and, seeing our group, quickly provided wine and soft drinks for everyone. All in all, we had a great CC group, and the PoH staff was more than helpful to us.
NOTE that these photographs are Copyright©1998-2019 Robert and Sandra Swanson. I greatly appreciate people viewing the photos, but not stealing them. If someone is interested from a commercial point of view, please contact me.

CLICK ON THE THUMBNAIL IMAGES TO VIEW A LARGER IMAGE