Passenger Lists from the USS George Washington During the First World War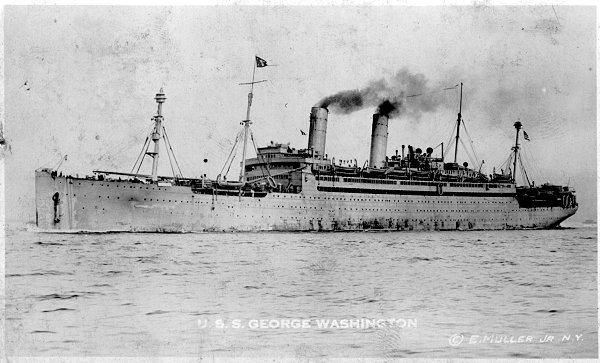 Introduction
Since I have posted my interest in troopships that carried US personnel across the Atlantic during First World War, I have received many emails asking if I had rosters or passenger lists for the ships. Unfortunately, I have yet to find any comprehensive lists, and believe that such information is probably buried somewhere in the National Archives. When you consider that from 2-4 million American troops were transported to and from Europe, such lists must be massive.
Since I wrote the words above, it appears that Ancestry.com can now offer a search engine that may help connect a particular service person with a troopship.
In addition, you may find a large variety of documentation for people, including military records, and passenger lists at: FamilySearch.
"The Hatchet"
The good news is that I recently purhased a copy of "The Hatchet" book. The USS George Washington, a troopship, published a daily newspaper during its crossings. This book was published shortly after the War, and was a digest of those daily newspapers. In the back of this book, there are some passenger lists. I have taken those images and posted them to my website.
Be aware that this passenger list names Officers Only. It does not name enlisted personnel.
Note also that you can download a free electronic copy of the book from Google Books. Go to: Google Books and search for "washington hatchet". Be sure you have the entry for the 1919 edition of the book, and then you can download it from Google.
The Files
The following files are PDF (readable with the Adobe PDF Reader), in sizes from 2 to 6 megabytes.