Our Boating Page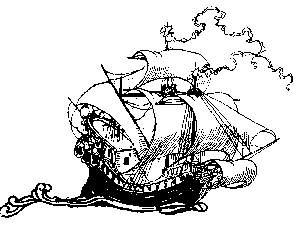 Our Boating History
Once upon a time, we owned a boat (actually a succession of several boats). The last two were named "Carpe Diem". The most recent Carpe was a Carver 32-foot aft cabin cruiser, vintage 1984. We cruised with her in July 1998 to the North Channel.
In previous years, we travelled in our other Carpe on the Great Lakes. For instance, in 1997, we visited Lake Michigan for two weeks, and, on a separate fall trip, spent a week on the Trent-Severn waterway in Canada. While living in the Great Lakes area, we often enjoyed cruising the North Channel area of Canada. Our last (1998) trip was three fantastic weeks in the North Channel, including a visit to Gore Bay to attend a rendezvous of the Great Lakes Cruising Club.
Boating Relationships

Sandi was a Contributing Editor for (sadly now defunct as a print publication) Great Lakes Cruiser Magazine. In the magazine, she chronicled our 1995 tugboat cruise through the Great Lakes. The series was titled "The Voyage of Big Toot"!. She has also written stories about many of our ports of call.
While living and boating in the area, we benefitted greatly from our membership in The Great Lakes Cruising Club
Boating Links
One of our favorite books of all time was written about a boating trip on the Thames in England. We had a similar trip in 1993, but ours wasn't nearly as funny as Three Men in a Boat by Jererome K. Jerome [4k JPG]. One great excerpt from this book talks about towlines, or just about any line on any type of boat.
---
We have also enjoy reading Patrick O'Brian's [1914-2000] Aubrey and Maturin series. We were deeply saddened by his passing, realizing that there will now be no further chapters in the fascinating lives of Aubrey and Maturin.
---
'Nice? It's the only thing,' said the Water Rat solemnly, as he leant forward for his stroke. `Believe me, my young friend, there is nothing -- absolute nothing -- half so much worth doing as simply messing about in boats. Simply messing,' he went on dreamily: `messing -- about -- in -- boats; messing -- --'

The above quote (our favorite) comes from The Wind in the Willows, and our favorite chapter in the book is: The Piper at the Gates of Dawn.
---
Tony Morris' "Best Boating Pages" are very helpful.
---
Comments on our Web pages?
**** If you can read this text, your browser is not supporting Cascading Style Sheets (CSS). You may be running a text-only browser, or perhaps an older browser version. It is also possible that you are have disabled Javascript (Netscape). If you wish to see this page with all formatting in place, upgrade your browser, and/or enable Javascript. Sorry for the inconvenience. ****