All the Pennants Flying at Bay Harbor, Michigan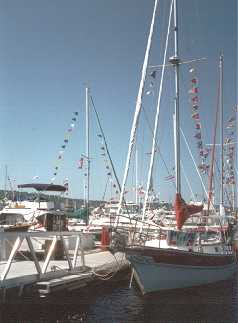 This is a general view of the lineup of boats at Bay Harbor during the Great Lakes Cruising Club rendezvous in July 1997. This new marina is located near Petosky, on Lake Michigan. Everyone in the club has "dressed ship" with every pennant and burgee they can find on board. Most of the pennants you see are souvenirs from previous GLCC events, usually only one per annual event. Some boats have 20 or more flying proudly in the breeze.
Copyright © 2014 Robert Swanson
Based on Code by Louis Lazaris. See article and original inspiration.
---
More Links
Stamps and Postal History Information
**** If you can read this text, your browser is not supporting Cascading Style Sheets (CSS). You may be running a text-only browser, or perhaps an older browser version. It is also possible that you have disabled Javascript (Netscape). If you wish to see this page with all formatting in place, upgrade your browser, and/or enable Javascript. Sorry for the inconvenience. ****