Big Toot at Bay Harbor, Michigan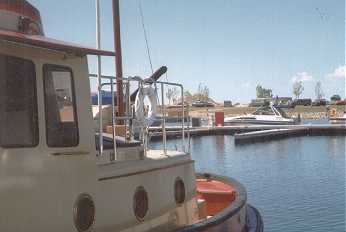 This picture shows the recreational tugboat Big Toot, tied up at the Great Lakes Cruising Club rendezvous at Bay Harbor. This new marina is located near Petosky, on Lake Michigan.
We spent 45 days in 1995 traveling as crew on this boat, through 1,500 miles of the Great Lakes. We took this picture in 1997, when both the tugboat, and our previous Carpe Diem (in the background at her dock) were located only a hundred feet apart.
Copyright © 2014 Robert Swanson
Based on Code by Louis Lazaris. See article and original inspiration.
---
More Links
Stamps and Postal History Information
**** If you can read this text, your browser is not supporting Cascading Style Sheets (CSS). You may be running a text-only browser, or perhaps an older browser version. It is also possible that you have disabled Javascript (Netscape). If you wish to see this page with all formatting in place, upgrade your browser, and/or enable Javascript. Sorry for the inconvenience. ****