Purchasing Bob Swanson's Domestic U. S. Military Facilities, 1st Edition First World War Book (2000)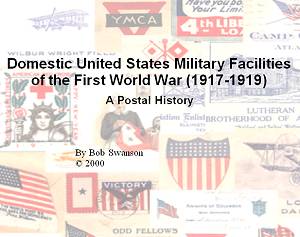 Purchasing Options for: Domestic U. S. Military Facilities of the First World War, 1st Edition (A Postal History) (2000)
NOTE About the Second Edition of This Book
A second edition of this book was published in 2018. It represents a major updating and improvement over the original 2000 edition. Only use the ordering links on this page to buy the FIRST (2000) edition!
Electronic Formats
The First Edition of this book was produced in 2000, and published as a printable PDF file. I sold copies of the PDF for many years, taking the file down to the local "instant print" and selling as a loose-leaf book. The LuLu.com link above is for a professionally-printed paperback book. The only electronic version available of this book a "printable PDF". You may print a single paper copy of this over 400-page book for your personal use. (Do not try to take that PDF file to a "local instant-print" as they will not print a copyrighted book, unless you are the author.)
Due to the large size, it is suggested that collectors only print out states or sections that are of current interest. Some of the illustrations in this book are in full color, primarily "Appendix A". You may want to review the PDF contents before trying to print out some pages on a color printer. However, as most computer owners know, printing in color is quite costly, so your decision to print from the Printable PDF depends on your equipment and budget.
PDF (Portable Document Format) Book
This electronic file of this printable PDF will be sent to you by email, with a link that you can reference for direct download of the book. Note that this PDF file contains no links, and is essentially an image of the printed book. BEFORE purchasing the book in this format, please fully read: this page describing how to read PDF files on a variety of computers, phones, and tablets.

Printable PDF (Size is about 26 megabytes.)


About Domestic United States Military Facilities of the First World War 1917-1919, 1st Edition
This book represents nearly two decades of work, and was first published in 2000. Since it's publishing, a lot of information has been provided to correct and expand various sections of the book. Rather than try to re-create the original book, I am offering the 1st edition as it was created in 2000. NOTE that I have published 2nd Edition of this book (2018).
In this book, I've attempted to list every place in the United States and Territories where soldiers, sailors, or marines might have been stationed during the First World War. The reason for such a list is to provide source locations and checklists for postal history (letters and cards) from these military men. The book lists all fixed, land-based United States military camps and facilities that operated during the War period. There has long been a need for such a listing, as it was not known where military mail could have originated within the US.
NOTE: the mailing address present in the paper and PDF copies of this book are out of date. Please contact me using the email address below:
The items higher up in this web page contain links that allow you to purchase an electronic copy of this book.

You can contact me at the e-mail address:

bobswansonpkjwjej555tru7@protonmailajwjej39r9555.comkjkjkj6jyuyuyu7