Montgomery, Alabama, Aviation Branch Cover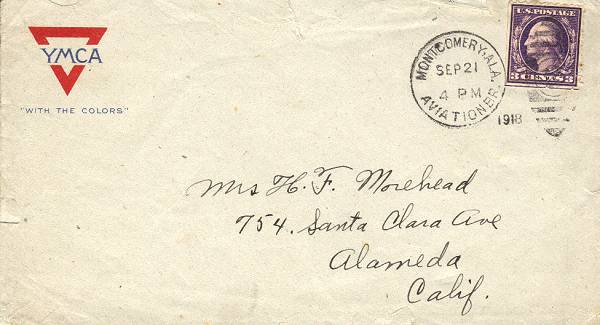 Montgomery, Alabama, had several military facilities active during the First World War. This cover origininated from a soldier stationed at the General Aviation Supply Depot. The hand cancel shows the name of the "Aviation Branch" of Montgomery, a special Post Office branch set up to service mail from the soldiers. These covers are quite uncommon, since there were very few soldiers stationed at this facility.
The envelope used was provided to the troops by the YMCA. Here is another YMCA cover, mailed from Camp Custer, Michigan.
Copyright © 2014 Robert Swanson
Based on Code by Louis Lazaris. See article and original inspiration.
---
More Links
Stamps and Postal History Information
**** If you can read this text, your browser is not supporting Cascading Style Sheets (CSS). You may be running a text-only browser, or perhaps an older browser version. It is also possible that you have disabled Javascript (Netscape). If you wish to see this page with all formatting in place, upgrade your browser, and/or enable Javascript. Sorry for the inconvenience. ****