YMCA Cover from Camp Custer, WWI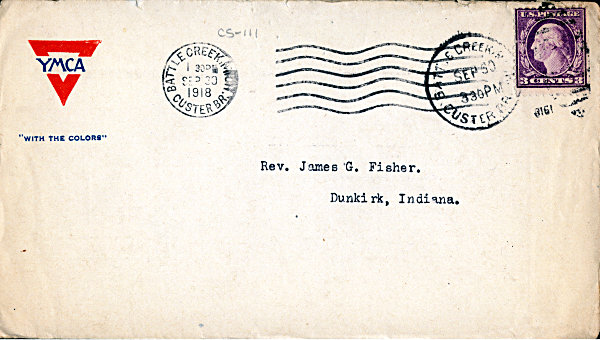 This cover is from Camp Custer, Michigan, during the training period of the First World War. It is a typical YMCA envelope, as given out to the troops to write home. Millions of these envelopes were provided by the "Y".
The interesting aspect to this cover is the pair of cancellations. Apparently, the envelope was mis-fed into the Universal cancelling machine used at Camp Custer, and the machine missed cancelling the stamp. Someone noticed, and hand-cancelled the cover later with the duplex handstamp of Camp Custer. Handstamp examples are not common from the training camp branches during the War, so this "error" was a fortunate event for this collector.
Not every letter from camp used YMCA stationery. Here is a very rare cover with the logo of the Odd Fellows from Camp Devens, Massachusetts.
Copyright © 2014 Robert Swanson
Based on Code by Louis Lazaris. See article and original inspiration.
---
More Links
Stamps and Postal History Information
**** If you can read this text, your browser is not supporting Cascading Style Sheets (CSS). You may be running a text-only browser, or perhaps an older browser version. It is also possible that you have disabled Javascript (Netscape). If you wish to see this page with all formatting in place, upgrade your browser, and/or enable Javascript. Sorry for the inconvenience. ****